Don't know how to add templates?
Well, here it is!
Step 1

You'll first see the tool bars up on the page. 
Note that some devices seem different, yet they have all the tools. 
Step 2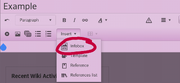 Now go to 
Insert- Infobox.
Step 3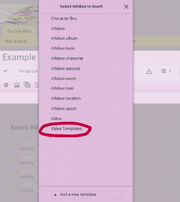 Now you can see the template list. 
Do NOT click "video". It was created by mistake. Click on the one circled- "Video Templates". 
Step 5
Now it opens to the fill-out page! Fill out the info needed for the template! After that, make sure to click 
"apply changes"
! Continue editing. 
If you happen to accidentally delete it, look for the back button! <3
Help
Can't figure how to add images to templates? Check out my blog about Wikia Images here !
Ad blocker interference detected!
Wikia is a free-to-use site that makes money from advertising. We have a modified experience for viewers using ad blockers

Wikia is not accessible if you've made further modifications. Remove the custom ad blocker rule(s) and the page will load as expected.